The Royal Air Force Museum is proud to announce its official association with the Pembroke Dock Sunderland Trust
Today a Memorandum of Understanding (MOU) was formally signed between the Royal Air Force Museum and the Pembroke Dock Sunderland Trust (PDST) in the presence of the Museum's CEO Maggie Appleton MBE and PDST Chairman, William McNamara, OBE.
The MOU will see the RAF Museum and Pembroke Dock Sunderland Trust establish a partnership to foster the interests of both parties through collaborative programmes and events. It will also offer professional development for staff, apprentices and volunteers and develop opportunities for complementary fundraising.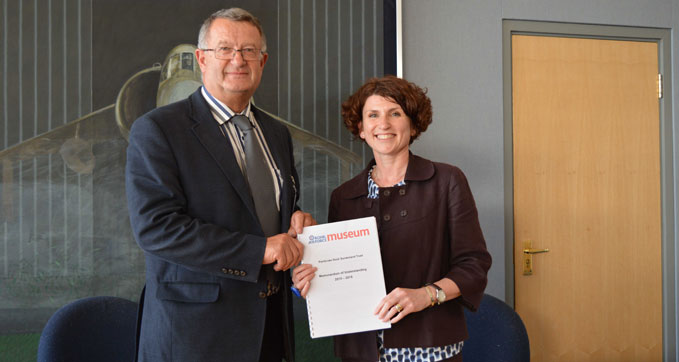 RAF Museum CEO Maggie Appleton stated:
"The Trustees and team of the Royal Air Force Museum are delighted to have the opportunity to work with the Pembroke Dock Sunderland Trust. As a National Museum we see it as our responsibility to share our expertise and experience with other organisations and equally look forward to learning from them. This arrangement will enable staff from both organisations to develop relationships as well as provide a substantial legacy for our respective local communities. We look forward to this important collaboration and to working with our new partner."
Pembroke Dock Sunderland Trust Chairman William McNamara added:
"Pembroke Dock's military heritage includes very important maritime aviation chapters which feature at our Heritage Centre.  Our new partnership with RAFM is an important milestone for us. It is an exciting prospect for all involved in the Sunderland Trust – trustees, staff and our skilled and dedicated volunteer team – to be able to work in collaboration with the national aviation museum. Pembroke Dock Sunderland Trust will be able to benefit in so many ways from this partnership and we look forward to a prosperous and beneficial future on many projects."